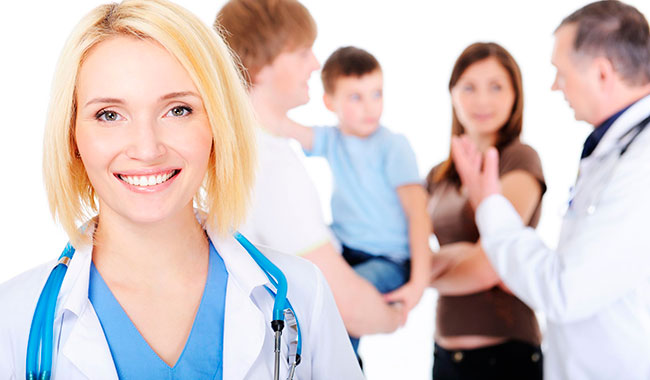 HOW CAN THE FAMILY DOCTOR HELP YOU?
The family doctor carries out an integral evaluation of the patient, in the family as well as the social context, giving an all-round, accessible and continual attention, whatever the age, sex or illness.
It is important to give priority to activities that promote good health, generate healthy habits, treatment of diseases, rehabilitation and palliative care.
All processes are dealt with in principle, but basically:
CV diseases such as HTN, problems with cholesterol, etc.
Endocrine-metabolic diseases such as Diabetes Mellitus, thyroid problems, obesity, etc.
Pulmonary diseases related to smoking, respiratory infections, etc.
Infectious diseases of all kinds, influenza, gastroenteritis, urinary infections, etc.
Rheumatologic diseases such as osteoarthritis, osteoporosis, gout, etc.
Psychiatric diseases such as anxiety, depression, etc.
Control of Sintrom and other anticoagulants
Diseases of the ENT area such as otitis, tonsillitis, etc.
Ophthalmologic diseases such as conjunctivitis, blepharitis, foreign bodies, etc.
Diseases of the digestive system such as diarrhea, hyper-acidity, constipation, etc.
Emergencies of any kind, including those relating to pediatrics and gynecology.
FAMILY MEDICINE STAFF:
Medical Director San Pedro: Dr. Salvador Alvarez Marín
Dra. Sladana Obradovic
Medical Director Estepona: Dra. Andrea Sierra